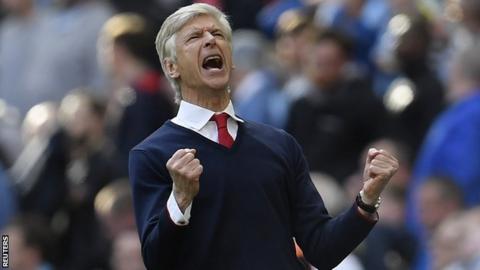 Arsenal boss Arsene Wenger says he is working on transfer targets for next season, despite no confirmation that he will be staying with the club.
Wenger is out of contract at the end of the season and has been offered a new two-year deal, although he is yet to announce whether he will continue.
"I work until the last day of the season for the present and future," said the 67-year-old.
"Transfer targets are the future of the club and are very important."
He added: "That (my future) is secondary, what is important is the future of the club."
Wenger said in February that he would decide on a new deal in March or April and later revealed "I know what I will do" and "you will soon know".
However, no announcement has yet been made as Arsenal, sixth in the league, challenge to finish in the top four to secure a Champions League berth – during Wenger's 21 years as manager, Arsenal have not finished outside the top four in the Premier League.
The Gunners have, however, reached the FA Cup final after beating Manchester City at Wembley on Sunday.
When asked about if there was an update on his future, when he would reveal his decision or whether events in the rest of the season would have an influence, Wenger said: "It's a triple no."
He also played down the prospect of striker Olivier Giroud leaving after the France international, who signed a new deal with the Gunners in January, was linked with Marseille.
"I had no approach from Marseille and we want to keep Olivier Giroud at the club," said Wenger.
Source: BBC Football Read Original Article: Wenger planning Arsenal transfer targets
There are thousands of in-play markets available each and every week at William Hill. Check out the schedule and bet on the likes of football, tennis, basketball and volleyball NOW!