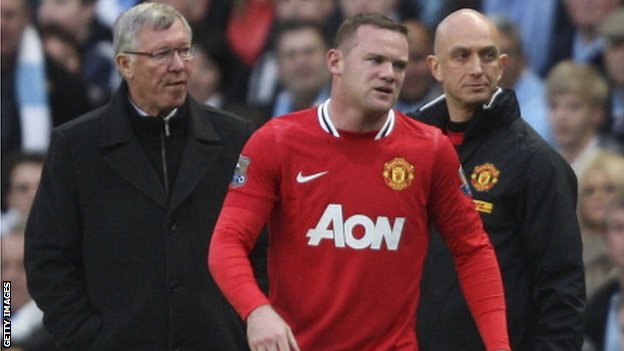 Manchester United's Wayne Rooney has admitted falling out with Sir Alex Ferguson during his final season but denies putting in a transfer request.
Rooney says he went to see Ferguson, who was United manager for 26 years, after being dropped in 2013.
"It's not just me who's had a fall-out with him," added the forward, 29, in Rooney – The Man Behind The Goals, to be shown on BBC One on 5 October.
"I don't know what happened or why that came out that way."
The England captain added: "I went in to see him and just said if you're not going to play me it might be better I moved on – then all of a sudden it's all over the press I put in a transfer request, which I never did."
Rooney did ask to leave United in October 2010 when the former Everton player pulled out of contract talks, saying he had not received
"any of the assurances I was seeking about the future squad".
Ferguson said at the time he was "dumbfounded" by Rooney's desire to leave but, 48 hours later, Rooney signed a new five-year deal.
United went on to win the title that season, and Rooney later said
staying at the club was the best decision of his career.
More to follow.

Source: BBC Football Read Original Article: Rooney admits rift with Ferguson
Bet365 constantly update their prices for all races shown live on Channel 4 to ensure that they offer the best price on every horse running.